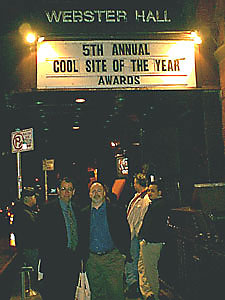 We lost. We suck. But at least now Steve and I don't have to fight over who gets to keep the trophy. As I was waiting for them to call out our site's name as the winner, I was imagining perhaps building a shrine in which the award could live midway between his place and mine. That was the best alternative I could come up with to an otherwise bitter custody battle in which we would work out a rotating visitation schedule, maybe split the major holidays, alternate birthdays; you know, that sort of thing... It would have been workable, especially with the help of a good divorce attorney, but I guess we don't need that now, do we? No, because we didn't win. They gave the award to The Darwin Awards instead. We suck.
It wasn't until the moment they didn't call our name that I realized I thought we were going to win. I figured the Darwin Awards to be our big competition, but they've been around for so long that they're old news now, so I thought we young, fresh, new kids on the block would win out. Wrong-o, Chuck-o. The Darwins reigned supreme; we were evolutionary dot com fodder.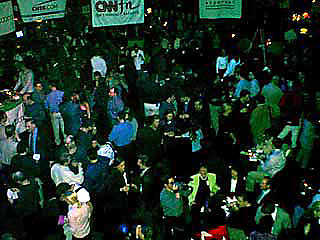 That was, for me, one of the most interesting aspects of the evening. Virtually every other website nominated was backed by a dot com company and virtually every attendee was there for a schmoozefest of Silicon Valley East. I think we were the sole nominee not backed by investors and business plans and a sales force and all the other trappings of the internet economy, and I think we were the only people there who didn't have a career interest hanging on the award. I don't think there was even a single instance where just one person went up to accept an award -- instead each announcement brought a small troupe of probably VPs and CEOs and IPO people and other business types up to the stage to accept the award and talk of business models and the brief history of their startup. One recipient symbolized it all for me when he took his award, stepped the mike, and shouted, "Next stop: Profits!"
But... What the hell. 'It's an honor just to be nominated,' as they say, and it's true that it is. (But winning is better. Or so I'm told.) We went on a goofy trek and I wrote a goofy story about it and put it and Steve's pictures up as a goofy website, and an amazing number of people out there "got" the goofiness and enjoyed what we'd done. That's really cool. (Winning is cooler, though. Or so I'm told.) Frankly, the award itself isn't that big a deal. Winning would have been nice (or so I'm told), but not winning doesn't take anything away from the experience. And, hey, the guy from the winning Motley Fool contingent looked us up to say hi and say he'd voted for us and thought we were robbed. (But he pointedly did not give us his award, although he did let me hold it for a moment. It was nice. And purty.)
And, hell, we got to watch Penn Jillette just whip that ceremony along, wrapping up the handing out of 14 some odd awards in a mere 40 minutes. And he ate fire for us, too. Academy Awards producers, take note. Plus, free stuff: disposable cameras (more than, um, one each for Steve and I) plastic cups (!), cheesy canvas tote bags, a pen (!!), and probably as the goofiest gimme, earplugs in an odd plastic case from Yahoo.com. You can't beat free stuff, even if you're not sure how to use it.
Awards ceremony aside, though, the most interesting part of the evening had to be the free limo ride we got back to the hotel after the ceremony. Some promo-hungry dot com (eTour.com -- one must reward cool free stuff) had hired out several limos that were waiting outside after the ceremony, offering free rides anywhere in the city to anyone coming out. Steve and I hopped into a stretch with two women and a loud man and proceeded to have a very interesting ride.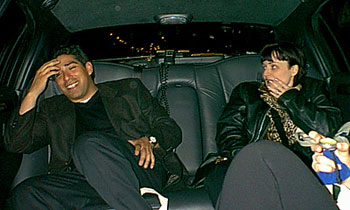 Let's call the guy Jamie (since that was his name), one of the women Boss Lady (since one was his boss) and the other Nice Lady (because she was). All three were sales types, the two women had an interestingly stultifying discussion about the nature of working in sales, and Jamie proceeded to demonstrate for us every negative cliché of the stereotypical salesman. Without going into too much more negative detail let's just say that he was a Big Dick.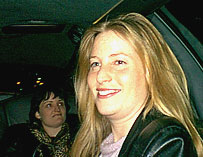 But now we're back at our hotel, we're losers, and we can enjoy the rest of our time here without puzzling over what to say in our acceptance speech. Okay, okay, that was my issue, not Steve's. Steve had a hilarious one line speech planned, the speaking of which would have fulfilled a lifelong dream for him. The fact that he didn't get his chance is, to me, the biggest loss of our big loss. I hope he gets another chance. Me, I didn't know what to say, so it's probably best I didn't get to say anything at all.
But I hear winning is nice. At least that's how the Darwin Awards guys acted.