Idiocy abounds. Satire is either recognized or missed completely, usually the latter. Satire on satire gets even stickier, and is even more easily missed. Is it brilliant satire or genuine cluelessness? Even I can't say. What I can say is this: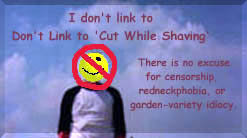 ---
While I'm at it, why not toss up a few more pics? You keep hearing me talk about Zoe, but I don't think I've ever included her picture, and the page I had up with pictures of her didn't make the move over here with the journal. So here's a couple of Zoe, and I guess I'll toss in one with me and Beth as well...

Zoe at the beach...

...in the jacuzzi

The whole famn damily
This concludes our photoessay. We will return to using actual words in the next entry.