September 4, 2002
---
Overall, I would say this was a good summer at Casa Atkins. Some high points, and some low points. But isn't that the stuff life is made of?
As she did last summer, Zoe went to camp at the Y. The Posh Y is down the street from my office. Literally. Everything about it is perfect. Reasonably priced, lots of fun activities, field trips, carpool lane for the commute there and back. Altogether a good deal. Zoe's best friend Katie joined us for most of the summer, adding only that much more to the perfectness that was camp.
Commingled in with regular camp were two weeks at horseback riding camp, where my brilliant, talented, beautiful, fabulous daughter took three first place ribbons, and a fifth place ribbon in two horse shows.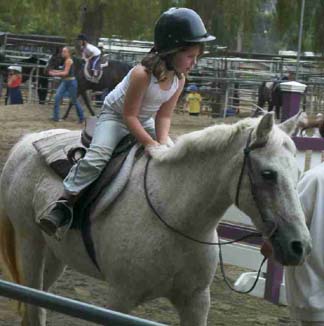 And there was two weeks of Camp Aunt Wolf. Yes, a huge leap of faith was taken when I sent my daughter for two (non-consecutive weeks) with my wolf sister. All was fine in the end, but Wolf did acknowledge that full-time parenting was a lot harder than she thought. Duh.
There were play-dates, sleep overs, beach days, fireworks at the Bowl, summer movies, and lazy days. Pretty much all the ingredients for a perfect summer.
And school starts tomorrow. I am so ready I could spit.
OK, I'll admit it. I need a schedule. I need the regularity. I need my alone time in the car to decompress.
I've heard enough Radio Disney to last a lifetime.
The back of my car seat has been kicked so many times I think there's a permanent indent in it.
I'm sick of camp songs and camp shirts.
I'm tired of remembering if it's a swimming day, field trip day, beach day, or parent lunch day.
I'm tired of packing lunch every day. I can't wait for hot lunch at school to start.
That said, summer was a delight. I watched my daughter get taller and more confident. Her swimming skills grew exponentially this summer. She's doing flip dives to get into the pool, and swimming in the deep end. I don't have to be in the pool every second with her anymore. I can just watch now, and less hawk-like, finally. I can send her on a play date where swimming is involved and not have palpitations the entire time she's in the pool.
And there was some sadness here recently. One of our kittens, Al (Alice) was hit by a car on Saturday.
I've had pets since I was in the second grade. Dogs and cats, fish and gerbils. (OK, I only had the gerbils a week since we also had a schnauzer, and she didn't like the little furry creatures). Without exception, all my furry four-legged friends lived until ripe old ages. Until Saturday.
Al was one of the pair of kittens Zoe and I adopted last summer while Chuck was out of town. For a brief period in time both kittens were named Crystal, but I finally talked Zoe out of that idea and we kept the names the kittens had when we adopted them: March and Alice. I loved Alice from the first second I saw her at the adoption place. She'd been rescued and had an abscess on her neck that had been repaired. She had a big scar and bald spot where the abscess had been, and they assured me it would vanish when the fur grew back. She was black as pitch but for a white spot on her neck about the size of a half dollar.
Al was sweet. And kind. And loved to be petted. She adored Zoe and slept in her bed nearly every night. We called her the Empress in Training since she was so much like Natasha, my 20 year old cat-the Empress. Like Natasha but cuddlier. And not scared of the dogs. Al was a lovey kitty.
I was wakened Saturday morning with Zoe coming in to tell me that Al was dead. Apparently she was right in front of our house (she snuck out through the dog door) and was crossing the street. Zoe heard a BUMP from her bedroom and got Chuck.
It was instantaneous.
We were all sad. No one knew what to do. It took a couple of tries before Chuck found a box that she would fit in. Zoe put in one of Al's favorite toys.
We had a proper burial for her. She's in the backyard now, in the corner near the peach tree. We marked the spot with rocks and visit her all the time.
I'm so profoundly sad right now.
Zoe has been a trouper through all of this. Since Al's passing Zoe has described the many adventures Al is having. She's in kitty heaven with my beloved Boris.
Until next time...