In Other News
I'm taking a break. Going on hiatus. Hanging it up for a bit. Quitting, temporary-like.
I'm the last person you need to tell I don't update often enough -- I know, I know, I feel the guilt weighing heavily on me every day that I don't post. But you know what? I'm tired of feeling guilty when I don't feel like being entertaining. I'm tired of feeling compelled to write here when I don't feel like it, when the last thing I want to do is strap myself to the desk for an hour or more to compose my deathless -- and compensationless, I might add -- prose. Nobody makes me feel that way but me, but I'm tired of it anyway.
I want the freedom to go through a string of days without updating and without feeling like I should be updating. I don't want this hanging over my head. For a little while, at least.
So I'm taking a vacation from the 'stake. 30 days should do it, I think. Look for me again right around Thanksgiving. I might post before then -- if I feel like it -- but don't count on anything until the turkey's goose is cooked. Or something like that.
See ya.

Friday -- October 23, 1999
Spontaneity Has Its Time And Its Place
A birthday present to me from Beth...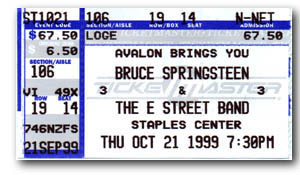 ...and it was so good we decided to try to go again.
We had dim-sum downtown this morning, then spur of the moment decided to swing by the Staples Center on the way home to try for last-minute tickets. We waited in line at the box office for a few hours -- with Zoe, who entertained everyone -- and got these seats at about 4:00. Dropped Zoe at my Mom's, rushed back downtown, and had another great evening of the white James Brown.
Floor seats at the last minute. Ya gotta love it.